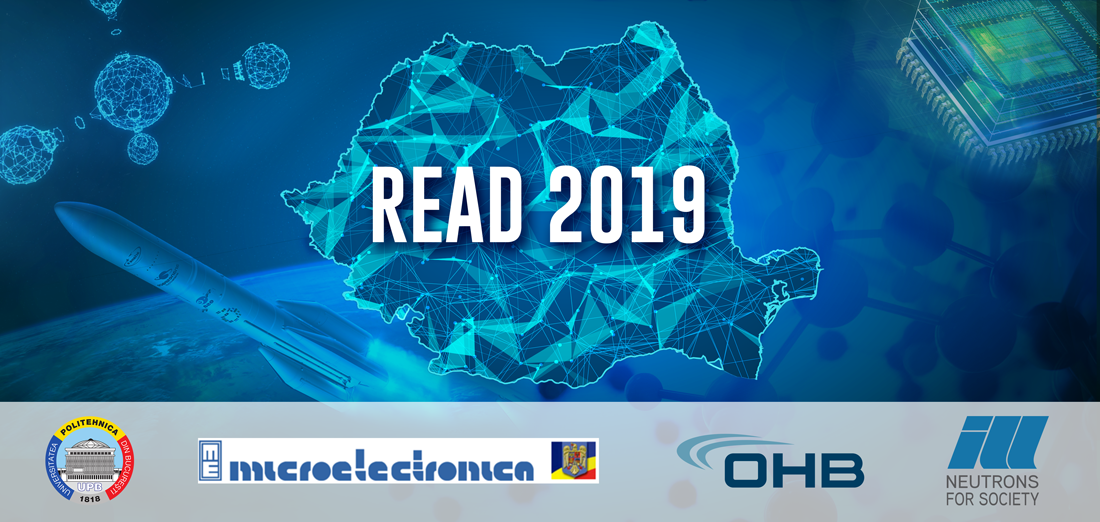 The workshop "READ 2019 [Research Education Application Days] – Advanced characterization for materials and engineering" took place in Bucharest on April 2nd 2019. The event aimed at exploring the scientific interest in neutron science in Romania and to sound cooperation possibilities with Romanian scientists from academia and industry.
Built on existing links with Romania on working level, namely in the field of nuclear physics (IFIN-HH and ELI-NP) and via innovative industry cooperation (such as the one between OHB and Microelectronica in space technologies), the programme covered different areas of advanced materials characterisation with neutrons from energy, biology, nuclear physics to additive manufacturing and other rising fields of material research.
The ILL delegation wasgrateful and honoured to meet :

Prof. Dr. Ecaterina ANDRONESCU – Minister of Education
Mr. Mihnea COSTOIU – Rector of the University Politehnica of Bucharest
Mr. Prisecaru – Vice rector of the University Politehnica of Bucharest
Mr. Darie – Vice rector of the University Politehnica of Bucharest
Mr. Iovu – Vice rector of the University Politehnica of Bucharest
Mr Vasile BERCU – Vice dean of the Faculty of Physics at the University of Bucharest
Amongst others, presentations of the broad research possibilities at the ILL were given to address the interest of Romanian counterparts in academia and industry:
ILL Industry liaison unit: How ILL cooperates with industry (D. Atkins)
SALSA: cooperation microelectronica/ILL/OHB (T. Pirling)
The Large-scale structures group (A. Tummino)
FIPPS: IFIN-HH/ILL cooperation in nuclear physics (C. Michelagnoli)
The role of neutron scattering in understanding superconductivity (A. Țuțueanu, Romanian PhD student at ILL)
Attendees (mostly young researchers and students) were given a concrete opportunity to discuss cooperation possibilities, in accordance with Romanian scientific priorities and requirements.
The whole event was therefore focused on:
Enhancing/developing existing cooperation in academia and industry
Exploring further possibilities for industrial cooperation
Identifying new cooperations with academic users